For many, the need for alteration to a living space becomes necessary. This may come about due to age or an unexpected illness or accident. If you or someone you love have special needs, going about your day can be challenging in a world that doesn't always cater to your specific needs. Your home shouldn't be a place of discomfort. In fact, it should be a place you can confidently, easily and safely navigate and live it
RM Contracting specializes on renovating and up-dating homes to accommodate people with special needs. We can design and construct wheel chair ramps and bathtub lift units. We can also widen doorways, make your bathroom "wheelchair accessible", install sliding doors, and much more.
"The Mechanical lift that Rob made for Bernadette is excellent. It's really helping all the Community Health Workers that works with her. Good job Rob!"
Lucie
Fraser Health Authority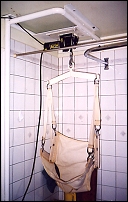 Homes are as unique as the individual home owner when it comes to accommodating people with special needs. RM Contracting has the knowledge and experience to transform your current living space into a safe, comfortable place that eliminates the frustration of not being fully-able to function properly in your own home.

If you or someone you love has the need to up-date their living space to accommodate their special set of circumstances, we encourage you to Contact Us to schedule a free, no-obligation consultation. During that consultation, we can tour your living space and listen to your specific needs. We will then prepare some ideas and options for your consideration.